Some highlights of the Worst Disasters of 2016…..
1. Nick Jonas at the AMA's 
When attempting a guitar solo at the American Music Awards (AMA's) Nick Jonas, made a royal mess of his performance. To say he was underprepared is an understatement.
Rolling Stones described Jonas's performance as "tried to do his best John Mayer, delivering a painfully stiff guitar solo that soured more than it soared — even missing a few notes."  See More of what Rolling Stones had to say Here 
A little harsh perhaps, but we have to agree, there are few things worse than being stuck on stage without the proper planning. Unfortunately bad planning one the part of AMA organisers is thought to be the cause of Jonas's ill-fated performance.  But this is an incident that could fall upon any good musician.
Much of live stage performance is organised on the fly or by external organisers who have limited knowledge or unrealistic expectations of musicians ability to play on the fly.
Unfortunately for Jonas, Stage Looper App wasn't available in 2016. Maybe it can help in 2017 !
2. Mariah Carey on NYE
Does anyone even know what happened here? It seems the singer suffered nearly every-form of technical cliche that can occur!
And all of it aired Live in supersize in New York's Times Square on NYE; Could it get any more embarrassing?
Well yes, the stream of Twitter speculation over what exactly went wrong with the Tech; combined with and Mariah's lip synching and temper tantrum on stage has seriously degraded her brand integrity as a musician.See Mariah's Twitter Feed Here to she how she is getting on
It just goes to show large music productions of live performances often give rise to unnecessary complexity and technical liabilities. It would be too much to expect Mariah to step back in time and download Stage Improviser instead of the grand disaster that occurred on NYE, nor could she as Stage  Improviser wasn't available yet.
However we do offer some advice in that we often find at Stage Looper that Technical Simplicity is the key to Performance Success. That's why we created Stage Looper, it reduces much of the technical mess that often causes these awkward music moments.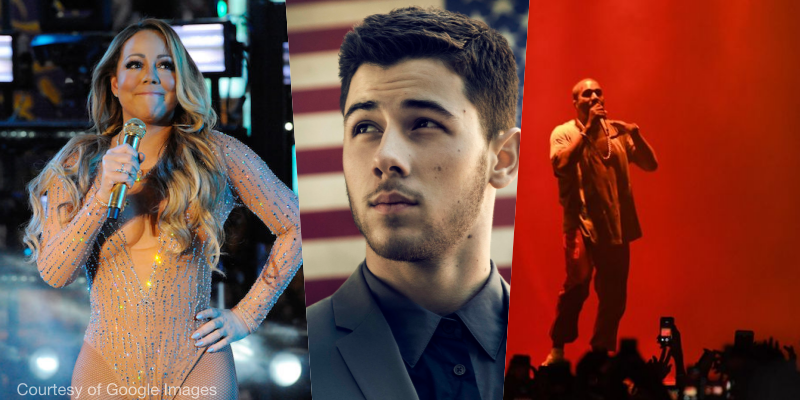 3. Kayne Wests On Stage Donald Trump Meltdown
We couldn't talk about Awkward Music Moments of 2017, without at least mentioning Kayne Wests Donald Trump meltdown back in November 2016.
Even though the incident had very little to do with music or live performance, other than the meltdown happened on stage during one of his mammoth gigs; it does illustrate the importance of prepared, even if that means mental preparedness.
Unfortunately our  Stage Looper App cannot help Kayne for mental breakdowns or subsequent psychiatric hospital admission. Yet, whenever he is ready for his next live performance in 2017, we are more than happy for him to download Stage Looper.
Stage Looper App is nearly ready for BETA testing; if you would like to learn more about becoming a BETA tester and would like to get Stage Looper App FREE, please click here.