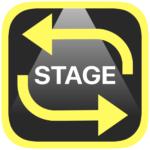 What is STAGE LOOPER?
STAGE LOOPER is the first application ever made for looping backing tracks live on stage.
Stage Looper, integrating looper and sequencer in a innovative workflow for playing your backing tracks live on the stage. Stage Looper completely reinvents what Live Performance Technology can be; giving musicians the flexibility and improvisability to play live with ease!
We can also say that, STAGE LOOPER is;
Audio Sample  based sequencer with looping possibility on the fly.
Visual music sequencer / song structure creator.
Song book, music library for music trainer.
Song exchanger between musicians / band member.
We have decided to restructure the Stage Looper from scratch. We've developed all in a brand new app called  "Stage Master". Please visit www.StageMaster.app
Key Features of STAGE LOOPER
Takes Your Music From Studio To Stage
The main function of Stage Looper App is to enable musicians to play songs prepared in DAW / home studio. And bring them to on-stage live performances, as an accompany; without getting stuck behind a computer during the gig.
Improvise On Stage
Stage Looper enables you to improvise on your pre-sequenced samples and loop them on the fly! It combines the workflow of sequencers / loopers. Unlike rigid sequencers on the market; Stage Looper provides incomparable flexibility; enables you to perform without messing up the flow of the song.
Makes Your Music Mobile
No more carrying around expensive loopers foot pedals and computers; all this tech is available on your Stage Looper App, simple pull out your iOS device (iPhone or iPad) and you are Gig ready.
Keep All Your Samples In Sync
Stage Looper keeps all your samples / backing tracks in sync; So even if you loop, skip back of track forward to a different sample the song playlist always remembers the sample sync. Everything is organised simplicity.
Makes Every Gig Unique
Stage Looper makes your song/sample sequences flexible. You can repeat the chorus many times with audience; and make the solo as long as you inspire. With Stage Looper you decide on the fly.
Hands-FREE Playing
Because Stage Looper knows your sound structure (preplanned sequence); you are free to play / sing / perform hands-FREE! You just hit the *ACTION* button once when you wish to improvise on the song. Stage Looper will follow your instructions.
Computer FREE Playing
The music technology industry is transfixed on tying musicians to computers. Don't they understand that we are not all DJ's; some of us want / need to play live on-stage. Stage Looper allows you to finally leave your laptop at home, where it belongs!
Always Gig Ready
Once you have uploaded your samples and created your unique song library your Stage Looper App is gig ready. No longer will you have to turn down a gig cause you don't have enough time to prepare. Your song library are already there, and ready to go on Stage Looper.
To receive information regarding updates of Stage Looper and upcoming features, subscribe below to be added to our mailing list. 
We send information maximum once a month, and we never share your information with 3rd party organisations!