What is Stage Looper?
Stage Lopper App; is an iOS application that enables musicians to play live on stage without the hassle of loopers/sequencers. By integrating looper/sequencer and Backing Track methods into the live performance. This app completely reinvents what Live Performance Technology can be; giving musicians the flexibility and improvisability to play live with ease!
Why Stage Looper?
Unlike other music tech companies, who put profit first, we put musicians centre stage of our app design; we designed Stage Looper with the musician first and what you need and asked for in live performance technology. It's what makes us different, and Stage Looper the app that every musician needs for their next performance.
Key Features of Stage Looper App
Takes Your Music From Studio To Stage
The main function of Stage Looper App is to enable musicians to play songs prepared in DAW / home studio. And bring them to on-stage live performances, as an accompany; without getting stuck behind a computer during the gig.
Improvise On Stage
Stage Looper enables you to improvise on your pre-sequenced samples and loop them on the fly! It combines the workflow of sequencers / loopers. Unlike rigid sequencers on the market; Stage Looper provides incomparable flexibility; enables you to perform without messing up the flow of the song.
Makes Your Music Mobile
No more carrying around expensive loopers foot pedals and computers; all this tech is available on your Stage Looper App, simple pull out your iOS device (iPhone or iPad) and you are Gig ready.
Keep All Your Samples In Sync
Stage Looper keeps all your samples / backing tracks in sync; So even if you loop, skip back of track forward to a different sample the song playlist always remembers the sample sync. Everything is organised simplicity.
Makes Every Gig Unique
Stage Looper makes your song/sample sequences flexible. You can repeat the chorus many times with audience; and make the solo as long as you inspire. With Stage Looper you decide on the fly.
Hands-FREE Playing
Because Stage Looper knows your sound structure (preplanned sequence); you are free to play / sing / perform hands-FREE! You just hit the *ACTION* button once when you wish to improvise on the song. Stage Looper will follow your instructions.
Computer FREE Playing
The music technology industry is transfixed on tying musicians to computers. Don't they understand that we are not all DJ's; some of us want / need to play live on-stage. Stage Looper allows you to finally leave your laptop at home, where it belongs!
Always Gig Ready
Once you have uploaded your samples and created your unique song library your Stage Looper App is gig ready. No longer will you have to turn down a gig cause you don't have enough time to prepare. Your song library are already there, and ready to go on Stage Looper.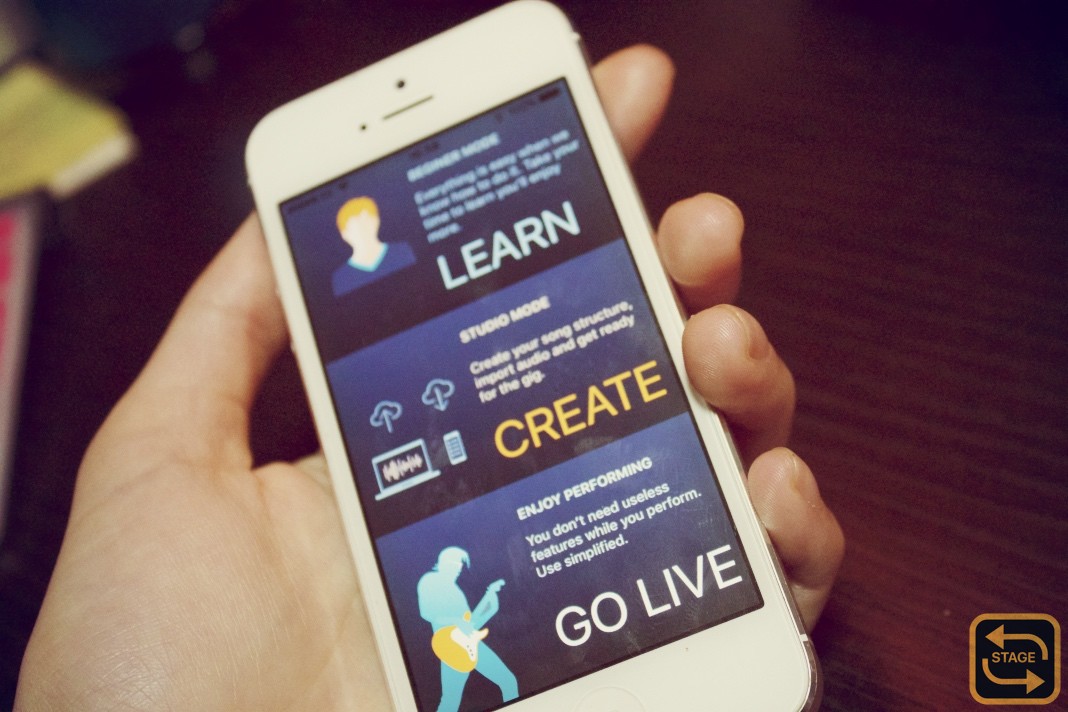 Export Samples From DAW
Export your song's parts as individual audio samples (like: intro.wav, verse.aif, chorus.mp3) from your DAW.(e.g. Propellerhead's Reason, Ableton Live, Logic Pro X, or any other)
Import Samples To Your Device
Import audio samples to play as backing track onto your iOS device with Stage Looper App via direct WI-FI or any cloud services (iCloud, OneDrive, Box, DropBox, etc.)
Sequence Backing Tracks
Sequence your audio sample backing tracks into musical composition structure. See your music. Define flexible / Loopable improvising parts of song and repeat counts for each pattern.
Perform Live Hands-FREE!
You're ready to perform with one click; Play, Loop, Jump to the next song without waiting. No loading time. Control everything with one foot controller- one button – hands FREE!
Create Gig / Song Playlists
Create many Playlists for every gig you play, every one of them is improvisable. from your song library
Share With Bandmates
Share your created song / gig playlists with your bandmates, so you are all in sync during performance at Live Gigs, and share with likeminded friends.