Like many Musicians I do my music production on DAW (Digital Audio Workstation), as the possibilities are infinite! I create my music with my guitar and arrange on a DAW (Mainly I use Propeller's Reason).  Once I have added the drum and bass, I can jam for hours with my guitar.
But this doesn't mean I haven't had problems with DAW's. My main issue is that they are not made for live gig jamming. This has been an issue for me, like many musicians, I like to improvise on stage during a live performance.  Often with a DAW you have to give this up, which makes me ask the question, "to DAW or Not to DAW"?
DAW is good for producing, uploading to SoundCloud, YouTube;  and for sharing or selling online. But lacks practical ability for bringing your sound to the stage. DAW software companies general approach is; This is a DAW software (Digital Audio Workstation) so this is a "workstation" not jamming app. In this regard, perhaps they are right.
Unfortunately only few software/DAW give live performance assistance. One of the most popular is Ableton Live. I am a registered Ableton Live user myself; I've used it on the stage for my electronic music creation. But people thought that; I was a DJ when I performed Live, as I was stuck behind a computer for most of the performance.
I'm NOT a DJ!
When I am on stage; I'm playing my compositions, I'm singing, and playing an instrument. But with Ableton Live I have to do all of this behind a computer.
Ableton Live is good for DJ'ing but not for live performing. As a guitar/singer type solo artist, I also needs to use DAW sounds; but as an accompany, not the main product, like a DJ does.
Computer on the stage =  Forget Performing
From my point of view there is not many alternatives for alternative musicians. Alternative musicians want to blend their DAW sounds into their live performance.
Most of the computer, mobile music applications are focused on music creation. Like toys; selling fewer finger movements functions to create a "music" , without ever thinking if fewer finger movements are actually a useful function for a Live performer. Or whether this improves music quality and what we're going to do with this piece of ehrm "music".
I rather categorise this kind of "music" as spam. Created for sharing on the internet, where visibility is low. 
Those looking for serious accompany tool/application/device are so disappointed with these toys.
Surprisingly, there are thousands of sampler looping application and Ableton Live clones exist in the music industry, none of which enable your hands free enough to be able to play live as a musician really wants to.
A "fortunate" solution!
All this frustration and gap between instrument and singing performers and DJ's. Thankfully I found Stage Looper App, it has been a lifesaver.
When you're in front of the audience face to face, eye to eye, you want to feed off the energy of the room to make the performance electric. With Stage Looper I can concentrate on the audience and perform my best as the app is keeping all my DAW sounds in sync.
It really puts the Musician first, and the computer where it belongs – at home!
I am super glad these guys created Stage Looper App, it is a welcome surprise to the music industry.
About 101SONIC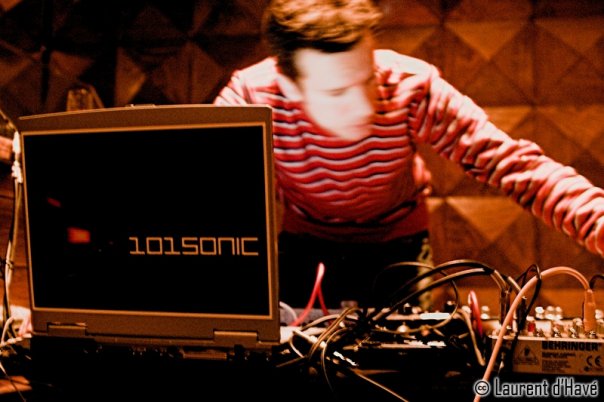 101SONIC is a successful Electro Rock Musician, Composer and Music Producer. Over 20 years performing experience; playing live in Brussels, Belgium and across the world.  101SONIC also works closely with a number of  bands / musicians to improve their compositions and develop their unique sound with DAW's.
You can follow 101SONIC on FB, Twitter and 101SONIC Website . As well as Download his albums from Soundcloud and iTunes.
We are very grateful to 101SONIC for sparing a few moments of his time to share his experiences with DAW's and their limitations. And for road testing Stage Looper for us, as a Beta Tester. Many Thanks again.
To become a Beta Tester yourself, follow this link Become a BETA Tester